Solar Roof Project
Ever dreamed about building your own solar roof? Here is an example how to DIY one for you and your family. First, plan the basic structure of the solar rooftop and the PV arrays. The solar panels are facing to the south to capture the maximum amount of solar radiation. To optimize the solar panels' performance, we recommend to orient them to the True South instead of Magnetic South. Find True South from Natural Resources Canada Magnetic declination calculator.


Project: Solar Roof
Upgrade Potential: Solar Garage
Equipments: SSI200W inverters ( can be use with GP2-400W inverters)
Location: Canada, British Columbia, Vancouver
Calculated magnetic declination: 17° 39' East

Stage1: Plan, plan, plan
Designed the 3D pre-model in a software, with side views and layouts. Measure the area for the structure and make sure the calculations are accurate. Then we are ready to go.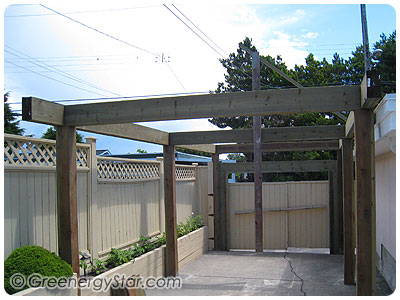 Stage 2: Base
After we calculated the dimention of the structure and the orientation of the solar panels, we built the base. There are 6 columns to support the structure's weight.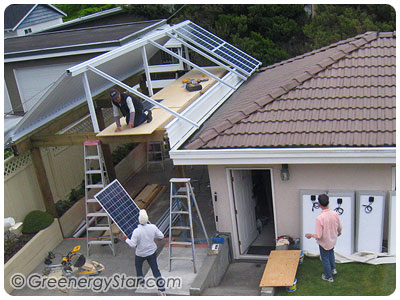 Stage 3: PV panel installation
We test our solar panels before the installation. Each panel is sealed carefully and are waterproof, ice-proof, weatherproof.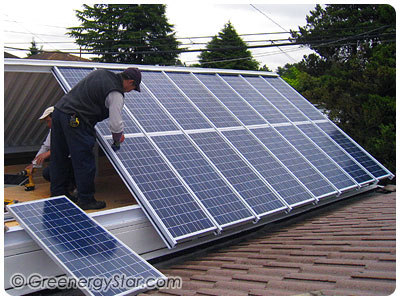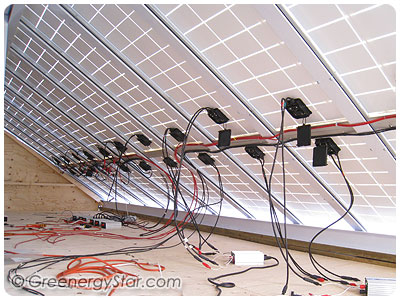 Stage 4: Alignment
Line up the cables of the solar panel and Inverters can be time consuming. However, to achieve the good aesthetic standard, careful consideration is necessary. There are 12 Inverters are being used.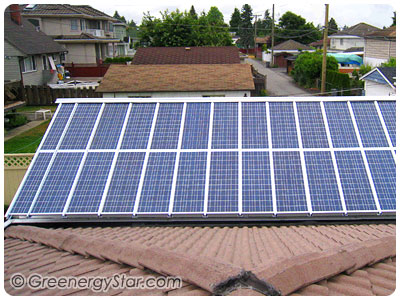 Optional: custom-made
The installation is completed. Note that to the left are the custom-made solar panels we made. The width is half of the regular ones. We accept custom-made solar roof orders.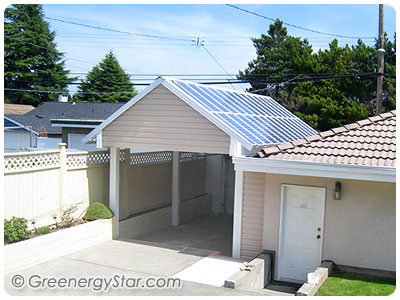 Stage 5: Usage
A garage door is added to the solar house. The house can be acted as a shelter or just a garage. The project is completed within 2 weeks.



Solar Garage Project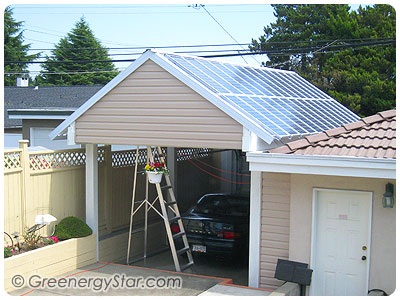 Upgrade to Solar Garage

It is possible to charge your hybrid or fully electric car with solar panels. However, we do recommend to sell your electricity during the days (when electricity cost is high), then buy electricity to charge your car at night. The sell high & buy low scheme can be applied to your daily life with solar panels. This technology requires houseowner to install smart meter.

In Canada BC, the smart metering technology is already available to certain households. According to BC Hydro, the smart metering installation for the whole BC province will be completed by 2012. Our citizens can soon enjoy the benefits of this new technology.